KITCHEN AND BATHROOM FLOOR TILING FOR DONCASTER HOMES
Your kitchen and bathroom can have a significant impact on the value of your home. A modern kitchen creates a welcoming space for social cooking and hosting events, while a renovated bathroom keeps your home feeling fresh and renewed. National Tilers has been delivering quality results to Doncaster homes, from bathroom repairs to a new tile flooring for years. See how we can recreate your current layout, with efficient services and a friendly team.
WHY CHOOSE OUR PROFESSIONAL TILERS?
Whether it's large scale repairs, or quality leak detection, National Tilers have been delivering results to homes across Melbourne's eastern suburbs. We specialise in helping to create unique spaces for you to truly enjoy, whether that's in a newly tilled bathroom or a rejuvenated kitchen. We want to leave all our customers with a welcoming, beautiful home, one that they're proud of and that stays in great condition.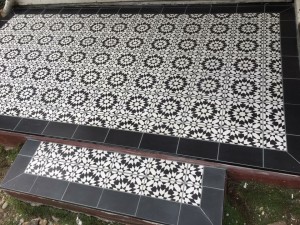 We employ only the best tillers, to ensure you're always left feeling satisfied, and our passionate and friendly service leaves you relaxed and with peace of mind. We assess your bathroom and kitchen needs and craft a personalised solution, ensuring we always consider your brief and budget, even if it's just a small leaky tap repair. If you prefer a team that'll always communicate with you, National Tilers is for you.
GET IN TOUCH WITH OUR TEAM
Our knowledgeable team are able to come to your Doncaster home, assess your kitchen or bathroom, and provide you with exceptional tiling services that leave you with a stylish, professionally done floor. We have serviced all kinds of homes, from small flats to larger properties, so we've dealt with almost everything.
If you have a kitchen or bathroom renovation that you want to get working on, call the experts at National Tilers today. We offer a full measure and quote for all repairs and services, so you know exactly what you're getting before we get started.